On this page, you can read about things to keep to help keep you safe and healthy.
You may love to play games online or chat to your friends but as well as having fun it's important to be careful online. Also talk to an adult about anything that you're unsure about that you may have seen online.
For some top tips go to CEOP Education and click on the link for your age group.
If you're walking to your local shop or park, or visiting a friend, you may have to cross roads. Although you may not be on your own it is really important to think about making your journey safe.
There are some great online games that you can do to learn the simple safety rules - Think! - Explore education resources (Age 7-12)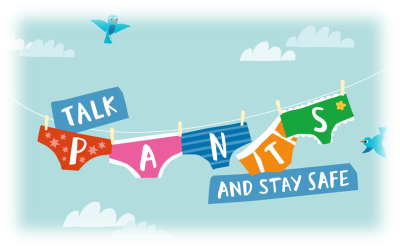 Watch and listen to Pantosaurus video
Pantosaurus Video by 'NSPCC'
The PANTS Rules, are: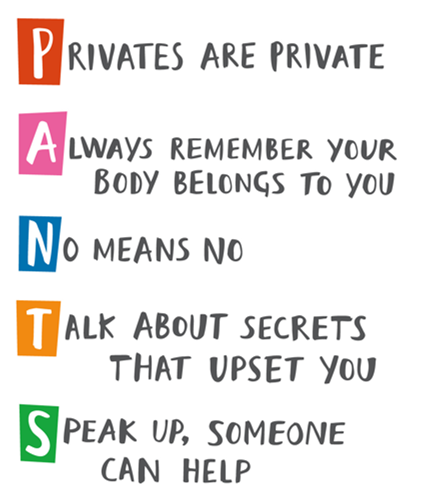 Useful links and reference:
Talk PANTS poster - pdf
Talk PANTS poster (Autisic Children) - pdf
---
Washing your hands regularly is really important. You use your hands in lots of different ways throughout the day which means that there are lots of opportunities for your hands to spread bacteria and possibly make you or others ill.
When and how should I wash them?
After you've been to the toilet
Before you eat
After you've been playing with a pet
Before preparing food
You should spend at least 20 seconds washing your hands thoroughly with warm water and soap. Make sure you dry them properly too.
To learn how to wash your hands properly, watch or listen to the video below.
[VIDEO HERE]
Your teeth are important for eating, speaking and smiling! Here's a quick guide as to how you should look after them:
Make sure to clean your teeth at least twice a day morning and one other time. Most people choose to do this before bedtime
Use a peasize amount of toothpaste
Make sure you brush properly for about two minutes and dont forget to brush your back teeth
After brushing… spit don't rinse!
You should visit your Dentist every 6 months and they will check the health of your teeth
Try not to:
eat too many sugary foods as too much sugar is bad for your teeth
drink sugary fizzy drinks as they are bad for your teeth, water is a better choice
eat sweets, if you do, try to have them at meal times
eat sticky sweets that can stick to your teeth for a long time
If we don't get enough sleep, then it can make us cross and irritable and make it more difficult to concentrate on tasks throughout the day. Sleep is really important as our bodies' go through big changes as we grow.
Here are some top tips to make sure that you get a good night's sleep:
Try a nice, warm drink or a warm bath before bed
Read a story or get someone to read a story to you
Say no to screen time at least an hour before bed
Try and sleep in a quiet and dark room
Did you know that to stay fit and healthy you need to be doing at least 60 minutes of exercise per day?
There are lots of ways to get exercise and you don't have to join a club to do it! Why not try some of the following ideas:
Walk to the shop rather than jumping on the bus
Have a dance off with your friends
Get out on your bike – encourage your family to go out on a family bike ride
Take a ball for a kick about in the park or garden
NHS healthier families has a few activity ideas. Maybe check out their 10 minute shake-up games with friends.
NHS healthier families - Activities
NHS healthier families - 10 Minute Shake Up games
Take a look at the events taking place at your local Brio Leisure Centre during the summer term.
Flu is a nasty little bug that can give you a bad temperature, bad coughs and bad sneezes.
To prevent flu you should:
Catch it - Catch coughs and sneezes with a tissue.
Bin it - Put your tissue in a bin.
Kill it - Wash your hands to stop any bugs from spreading.
You can fight the flu for a whole year, by having the flu nasal spray. There are no needles just a quick spray up each of your nostrils. It may tickle a little! And your eyes might water for a short time. If you can't have the flu spray there is another way you can fight the Flu.
We send parents or carers a letter to offer the flu spray, to say yes or no to you having it.
On the day you have your flu spray the nurse will introduce them self and these maybe some of the questions you might be asked:
"What is your name?"
"When is your birthday?"
These questions let the nurse know that your parent or carer has said yes to you having your flu spray.
NHS - All about fu and how to stop getting it (pdf)
Parents / Carers: